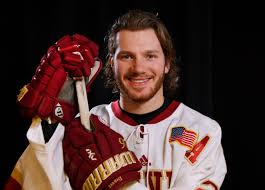 We are pleased to announce that client Evan Janssen has signed with the Iowa Wild!
Janssen wrapped up a four-year career this past spring at the University of Denver where he played in 146 games. The 6-foot, 185-pound forward scored 14 collegiate goals and added 33 assists for 47 points with the Pioneers. Janssen finished sixth in scoring at Denver University. Throughout his collegiate career Janssen achieved multiple game-point streaks. Furthermore, he is one of Denver's 16 Academic All-Conference Team member. Prior to his collegiate career, the Green Bay, WI native played in Dubuque for the USHL's Fighting Saints in 2012-13.
Janssen wrapped up his final season at Denver with a NCAA Championship win as well as with the NCAA Penrose Cup.
We look forward to seeing Janssen in his AHL debut with the Iowa Wild.